Are Rideshares Causing The Overall Traffic Fatality Rate To Increase?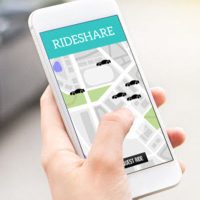 It has been well established through studies and statistics, that traffic deaths and fatalities have been going up. They went up even during the pandemic shutdowns. Pedestrian and bicyclist deaths are up. Almost every statistic related to car accidents has gone up in the last few years, all despite new technology in our cars presumably to reduce the number of accidents.
But could there be another cause of car accidents that nobody is looking at? Maybe the increase in car accidents of every kind is related to the rise in the usage of rideshare services like Uber or Lyft?
Study Finds Rideshares May be Responsible
According to one study that looked at traffic incidents between 2011 and 2016, rideshare and its increasing popularity and usage accounted for an increase in the number of car accident deaths (including pedestrians) by about 3%. The study noted that car accident deaths had started to decline around 2010, but then started climbing again in 2014, the year that rideshare companies started to become more popular.
Not everybody is convinced that rideshare companies are the cause of the uptick in car accident deaths, including, predictably, the rideshare companies themselves. But the study points out that in every city they looked at, when rideshare companies started moving into those cities, so too did fatal accidents go up in those cities.
Other Factors at Play
But critics say there are too many other factors involved to blame rideshare companies on the increase of car accident deaths.
For example, they point out that during the time period studied, there have been periods of low gas prices, which also encouraged more people to be on the roads. Additionally, there is some evidence that rural areas saw an uptick in traffic deaths, and they never had the influx of ridesharing the way cities did.
Uber and Lyft also point out that many people opt for ridesharing, when they would normally be behind their own car's wheel, tired or drunk. To the rideshare companies, their services have made the roadways safer than they would otherwise be.
Just More Cars?
The most likely explanation is simply a result of quantity; more rideshares have put more cars on the road, and more people opting for cars instead of public transportation. More cars will always result in more car accidents, and thus, although rideshare may contribute to the overall number of cars on the road, it may not be solely responsible for the increase in traffic fatalities of all kinds.
Multiple Parties Involved
Remember that rideshare accidents are different from other car accidents when it comes to liability and lawsuits. If you are injured in a rideshare accident, there are potentially two responsible parties–a driver who caused the accident, and your own rideshare driver. That means that there may be avenues to be compensated for injuries in a rideshare accident that may not exist in other types of accidents.
We can help you if you have been injured in a rideshare, Uber or Lyft car accident.  Call the Boston personal injury lawyers at The Law Office of Joseph Linnehan, Jr. today at 617-275-4200 for help.
Sources:
science.org/content/article/ride-sharing-killing-people-yes-study-suggests-critics-are-doubtful
usa.streetsblog.org/2018/10/24/study-uber-and-lyft-are-increasing-traffic-deaths/