Handling Emergencies Inside Rideshare Vehicles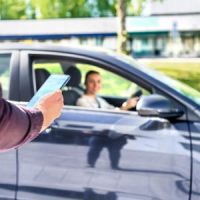 We often talk about car accidents in rideshares like Uber or Lyft. But other problems can emerge as well–specifically, criminal activity or threats of criminal actions, while inside the vehicle. Those threats can be made by the driver or the passenger, but either way, being mindful of your safety inside a rideshare is of vital importance.
Panic Buttons and App Usage
Although rideshare apps tend to differ, Uber, Lyft, and some others have now added a panic button to their apps. The button may look like a button or icon that says "911" or which appears as a shield, but either way, take some time and make sure you know where it is, before you get into the Uber.
The app should allow you to contact 911 directly from the app; one benefit of doing this is that information about your location and the driver's car, are automatically transmitted to authorities.
You also can edit your drop off point in the app. This is handy when you are uncomfortable in an Uber or Lyft, and you want to be dropped off before your destination. According to some reports, because the drop off has changed, the driver will not get paid for any drop-off that is not in accordance with your altered destination.
IDing the Driver
Of course, the first step in safety is making sure your rideshare driver is actually your rideshare driver. Many crimes happen when people impersonate Uber drivers.
Make sure the rideshare driver you ordered through the app is the person that is actually stopping to pick you up. Many apps have now made the diver's car and license plate information more visible in apps, to avoid these kinds or problems.
When passengers are victims of assault, battery, or other crimes by Uber drivers, the first response from the rideshare companies may be denial; because rideshare drivers are considered independent contractors, rideshare companies are quick to deny liability for the things that their riders do—especially with things like criminal activities, which are not part of the driver's duties.
Danger to Drivers
But Uber passengers are not the only ones who face dangers in a rideshare. The drivers do as well; there is just as much uncertainty by the driver over who is getting into his or her vehicle.
Rideshare companies do monitor or have systems that report unusual activity, such as longer than anticipated stops, or significant deviations from planned routes. Like passengers, Lyft or Uber drivers can also call law enforcement through their apps for assistance.
Drivers should look to see how riders pay—there is some research that more anonymous ways of paying, like through Venmo or gift cards, are more often used by those with an intent to commit crimes in a rideshare.
Remember as well that rideshare drivers are not emergency responders; you should not call for an Uber or a Lyft in a true medical emergency.
Contact us for help if you are injured in a rideshare such as Uber or Lyft.  Call the Boston personal injury lawyers at The Law Office of Joseph Linnehan, Jr. today at 617-275-4200.
Sources:
theverge.com/2019/5/21/18634087/lyft-panic-button-911-app-riders-safety
wptv.com/news/technology/what-kind-of-safety-measures-are-in-place-for-rideshare-drivers