How Can You Tell If Someone Is Being Abused Or Neglected In A Nursing Home?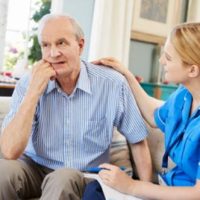 When a loved one goes into a nursing home the family is understandably concerned about the family member's safety. But what many family members may not even anticipate, is how incredibly hard it can be to even know if a loved one is being abused or neglected in a nursing home.
Why is it So Hard to Tell?
There are a number of reasons why nursing home abuse can be so difficult to detect. One major reason is that the resident may not be able to relay events to family, or relay them accurately.
Some nursing home residents may be nearly incapable of communicating, or communicating coherently because of their mental or physical condition, or because of illness or disease. Those that can communicate, may be hampered with mental disability, which may make them hard to understand or follow, their thoughts may not be coherent, and their ability to correctly and accurately relay a story to you, may be impaired.
Residents' underlying illnesses or disease, may cause them pain or discomfort, which may hide the pain and discomfort that they are experiencing from the actual abuse or neglect.
Things like bed sores or bruises may also be hard to detect in bedridden patients, given that they are in bed, and the areas affected may be hidden by their clothing or bedding.
What to Look For
Families of residents looking for signs of abuse should of course, closely observe the resident for any physical signs that can be seen, that are unexplained.
For example bruising on a patient that is immobile, would be a suspicious sign. Families should look around the resident's private areas, for signs of abuse, bleeding or bruising, and should examine the backside for signs of bedsore development.
For residents that are capable of communicating, families should look for unexplained changes in the mood or affect of the resident; residents who suddenly are noncommunicative, depressed, anxious, or who may become hostile, may be exhibiting tacit signs of abuse. Talkative residents who become silent is another sign.
Getting Records
Of course, many of these signs could be signs of other things, outside of abuse and neglect. Families do have a right to inspect and review patient records. However, it is unlikely that abuse will show up in record; rarely does a nursing home staff employee put in the records that they abused a resident.
Records may contain signs of neglect. For example, records of someone falling, or complaining that he or she is uncomfortable, or complaints of pain, may all be in nursing home patient records, and are all signs that the resident isn't getting the care and attention that he or she should be getting.
A good nursing home attorney can work with doctors and other experts, to examine nursing home residents to see if a resident has been a victim of neglect.
Call the Law Office of Joseph Linnehan Jr. if you believe that a loved one may have been abused and neglected in a nursing home.  Call our Boston personal injury lawyers today at 617-275-4200
Sources:
mayoclinic.org/diseases-conditions/bed-sores/symptoms-causes/syc-20355893
nolo.com/legal-encyclopedia/recognizing-the-signs-nursing-home-injury-abuse.html