Myths and Misconceptions About Personal Injury Law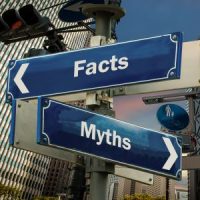 Personal injury law gets a lot of discussion in office lunchrooms, social media, and in other social places. People seem fascinated by personal injury law and cases, and with that fascination, often comes rumors or misconceptions.
Let's take a look at some of the more common myths and misconceptions when it comes to personal injury law, and cases.
It's easy money – It's easy: just get into an accident, and someone pays you.
Well, it's really not that easy. Every step of the way, someone is fighting you: the Defendant, an insurance company, and even a jury, who may initially be very skeptical about your injuries.
As you may be able to tell from reading articles and blogs about the topic, personal injury law is very complex, and Defendants have a slew of defenses at their disposal. They will say they aren't liable, you are liable, someone else is liable, you aren't injured, or they can't pay.
You can do it yourself – Along with personal injury cases being easy, many people therefore believe they don't need an attorney—they can handle the case themselves.
But again—the complexity of the law, and the numerous defenses, not to mention the Defendant or insurance company's endless resources for the best technology, experts, and attorneys—mean that if you are unrepresented, you are at a disadvantage.
Could you represent yourself and get maybe a fraction of what your case is worth? Maybe. But if you truly want full and fair compensation for your injuries, you can't handle your case by yourself.
Juries are "sympathetic" to victims – Juries are people, and everybody is different, so it's hard to just generalize. But put away the notion that juries are just sitting in trial, waiting to hand money to victims.
In fact, many jurors are jaded or skeptical at personal injury claims. Many feel bad for whomever you are suing—even if you are suing a larger, corporate defendant. Many jurors may have themselves been sued at some point in their lives, making them sympathetic to the Defendant.
The jury may not hate you going into your case—but they are not automatically on your side, just because you were injured in an accident.
Youre hurting someone by suing them-Most large companies have insurance, or are self insured. Even individuals have insurance, and thus, their personal assets are rarely put at risk. If someone really did injure you, you should not be ashamed or feel guilty for suing. They will be fine, this is why they got insurance in the first place.
You need a "serious injury" – Yes, the more serious your injury, the more compensation you will likely receive. But you are entitled to some compensation, even if you have a moderate injury, or one that has healed. Don't assume you don't have a case just because you aren't grievously injured—ask a personal injury attorney.
Get the truth about your personal injury case.  Call our Boston personal injury lawyers at ​​The Law Office of Joseph Linnehan, Jr. today at 617-275-4200 for help.
Sources:
ashland.or.us/Files/Self%20Insurance%20FAQ.pdf
academic.oup.com/book/3949/chapter/145555571