Available Insurance In A Rideshare Accident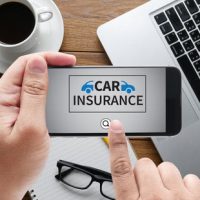 Insurance in a car accident case can be a confusing mix of coverages, participants, and policies. The typical car accident insurance coverage can have multiple parts to it, with different coverages that cover different kinds of damages, compounded by potentially multiple parties to the accident.
That maze of insurance gets even more complex when you add in a rideshare accident (Uber or Lyft). Now, you have third driver's personal insurance, as well as insurance provided by the rideshare company itself, to deal with—and while more insurance is a good thing for injured victims, it can also lead to confusion over who or what insurance is supposed to cover which victim, and for how much.
What is the Driver Doing?
One core question when an Uber or Lyft is in an accident, the status of the driver. The driver may be in the rideshare vehicle, but not be working at all. Or, the driver may be working for a rideshare company at the time of an accident, but have no passengers in the vehicle. Of course, the driver may be working with a passenger in the vehicle.
Insurance Coverages
If the driver is logged into the rideshare app, but is not actively driving a passenger, both Uber and Lyft provide between $50,000-$100,00 in coverage.
When a driver is actually transporting somebody, or if the driver is on his or her way to pick up a passenger, the coverage increases to $1 million, insurance coverage that extends to anybody, whether the victim is inside or outside the car (such as a bicyclist or pedestrian). However, that only applies if the Uber/Lyft driver is at fault; coverage is only $250,000 if another driver is at fault. There is also a $1 million uninsured motorist coverage policy as well.
If the driver is not logged into the rideshare app, the insurance is treated the same way any cart accident insurance would be—the driver's own, personal car insurance policy, at whatever limits those are, would apply.
Suing Uber or Lyft
Despite the connections to the larger rideshare companies, if you are injured by an Uber or Lyft, you often cannot sue either company. You can only sue the driver, individually, the way that you would in a normal car accident. The insurance coverage required by or provided by Uber or Lyft, however, would still be applicable, so as to ensure that there is at least some money to help compensate you in a rideshare accident.
You Have Options
Remember that in a normal car accident, you must prove that the other vehicle was negligent, or caused the accident. But when you are a rideshare passenger, you have two options to recovery: showing that another driver was negligent, or showing that the accident was caused by the rideshare driver.
Even in cases where normally there would be no lawsuit—for example, your car hits a tree—there can be an avenue for recovery in a rideshare accident, because the driver may have been negligent.
Injured in a rideshare accident? Don't go it alone.  Call our Boston personal injury lawyers at The Law Office of Joseph Linnehan, Jr.  today at 617-275-4200 for help.
Sources:
nerdwallet.com/article/insurance/rideshare-insurance
progressive.com/auto/insurance-coverages/rideshare/