Have You Ever Read What's Actually In That Cruise Ticket?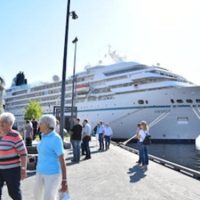 As things get back to normal after COVID, one industry that is experiencing a rebirth is the cruise industry. People are starting to have a great time buying that ticket and going cruising. But have you looked at that cruise ticket? Because that's actually much more than a ticket: it's a contract, and one where you are giving up certain, very important rights.
Limits on Time
One thing that cruise tickets do is often significantly limit the amount of time that you have to file a claim. Many cruise tickets will require that your case be filed, or else that the cruise line be notified of any potential claim or injury, within a mere 6 months. This is much shorter than the time to file any other type of injury claim.
Some may even, confusingly, have dual deadlines: One deadline to notify them of your accident or injury, and another to file your lawsuit. That means that even if you file the lawsuit in the time limit provided, but you didn't notify the cruise line before you filed, your case could still get kicked out of court—possibly forever.
Location for the Lawsuit
Many cruise line tickets also select the venue or location where your lawsuit can be filed and heard. Of course, the location that the cruise line chooses will be one that's easiest and most favorable to them. You, on the other hand, are left to have your case handled in a far away court, a good distance from your witnesses, doctors, and lawyers.
Some cruise tickets even go so far as to say that your lawsuit can only be filed in a foreign country, subject to that country's laws. Those countries are usually the ones that are more difficult for injured victims to win cases.
Limitations to Liability
Many cruise line tickets even limit their actual liability, to defects or problems that are actually known by them in advance. But it can be difficult if not impossible to prove what the cruise line knew or didn't know.
Cruise line tickets will try to divide the cruise into "sections," and say that the cruise line has no liability for things its "contractors" may do.
For example, the cruise line ticket may say that if you are injured by the cruise ship doctors, or by someone conducting a cruise ship volleyball game, or by an excursion going from the cruise ship, that these are all third parties that the cruise ship has no responsibility for.  These contractors may be small, difficult or impossible to sue, and may have limited or no ability to even pay a judgment against them if it's injured.
Read your cruise line ticket carefully before choosing a cruise. It is not impossible to sue a cruise line, it is just important that you understand the limitations that are put on you by your cruise ticket.
Contact the Boston personal injury lawyers at the Law Office of Joseph Linnehan Jr. for help if you are injured on a cruise. Call us today at 617-275-4200.
Sources:
royalcaribbean.com/content/dam/royal/resources/pdf/cruise-ticket-contract.pdf
reuters.com/article/uk-us-usa-cruise-contracts/what-you-sign-away-when-you-buy-a-cruise-ticket-idUSLNE80H01L20120118