Rideshare Companies Fight Over Responsibility For Driver Negligence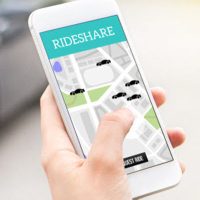 There are a lot of legal issues around ridesharing services like Lyft or Uber when it comes to liability for accidents. However, in a lot of cases, the question of whether rideshare companies are liable for the accidents that are caused by their drivers hinges on one essential question: Are rideshare drivers independent contractors, or are they employees?
Why Does it Matter?
Rideshare companies argue this question nationwide, urging that their drivers are independent contractors. They do this for liability purposes–if a driver is an independent contractor, their employer–Uber or Lyft–is not automatically liable for the injuries and accidents their drivers cause.
However, if the drivers are employees, these companies can be held liable, the way any company could be sued when their employees cause an accident on the road.
Catastrophic Accident Leads to Lawsuit
The issue recently came to light when a 31-year-old man was made a quadraplegic, after an accident in a rideshare. The Uber driver slammed the vehicle into a parked car and the passenger's head slammed into the headrest, breaking his neck, and paralyzing him.
The victim is suing Uber, contending that it should have done a background check, and if it had done so, it would have revealed the driver's less than stellar driving record. That would have or should have kept the driver from ever being behind the wheel in an Uber.
Uber contends that the driver was an independent contractor, and thus that Uber cannot be sued for negligent hiring, or failure to do a background check. The question is one that could be answered by Massachusetts voters in November, as the question is being put to public ballot in the state later this year.
Insurance in Rideshare Accident Cases
If and when rideshare companies are liable for the negligence of their drivers, the law requires the rideshare companies' insurance companies to pay damages to the victims, for the companies are held to be liable. Both Uber and Lyft offer up to $1 million in insurance coverage for each accident.
However, these policies generally only apply when there is an actual passenger in the car. When there is not–such as when the driver is going to pick up a passenger, or when the driver is just riding around, awaiting the next call (sometimes called "deadheading")–the driver's own policy will insure the driver for any injuries caused by the driver's negligence.
Often, what coverage will apply–the driver's or the company's–will depend on whether the driver is logged into the rideshare app.
However, it does not matter who is injured–that is, if the rideshare company's insurance covers the accident, it will do so whether you are a passenger, or if you are someone in another car or a pedestrian, injured by the rideshare driver's negligence.
Rideshare accidents can have multiple parties responsible, and multiple sources of insurance.  Call our Boston personal injury lawyers today at The Law Office of Joseph Linnehan, Jr. for help with your case if you are injured in a Lyft or Uber accident.
Sources:
lyft.com/driver/insurance
bostonglobe.com/2022/01/25/metro/uberpassengerparalyzedcrashsuescompany63million/