The Dangers Of Accepting Money From The Other Driver at the Scene of the Accident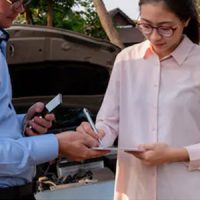 If you are in a car accident, it is often the case that the other driver will argue with you and dispute that he or she caused the accident. But sometimes, the opposite happens. Sometimes, the other driver admits he or she did something wrong, and makes you a money offer right there at the scene of the accident.
It's easy. It's quick. It avoids police, insurance, lawsuits and a number of other headaches. So should you take the offer?
Why People Offer Money
Before answering that question, let's look at why that other driver may be so willing to offer you anything.
The other driver may have something to hide, something that would come out if police came to the scene, or if a lawsuit were filed. For example, he or she may know that he was texting while driving, or he may be drunk.
The other driver's insurance or drivers license may be invalid or suspended. Or, there may just be a fear of having an insurance premium rise, if the other driver is responsible for the accident.
Is it Legal?
Legally, you can take an offer that is being made to you at the scene of an accident. But that doesn't mean that you should.
You may actually be breaking the law—not by taking the offered funds from the other driver, but for leaving the scene of an accident where injuries are involved without calling the police.
Risk of the Unknown
But the other risk is the unknown: you have no idea how damaged your car may be, internally, or how injured you may be.
If you simply take an offer, you have created two problems, if it turns out later that you or your car are more damaged or injured than you thought they were.
Insurance Problems
The first problem is insurance; insurances have time limits to report claims. They may deny your claim later, whether for benefits related to your medical treatment, or benefits related to property damage, if you wait too long to report the accident to them.
That can be an easy deadline to miss, when you just take the other driver's money offer, and then 32 days later, you realize your car is having problems related to the accident.
Complete Settlement?
The other problem is that by accepting a monetary offer from the other driver, you may have completely and totally settled your case, for that money amount. That complete settlement could forever bar you from going to court later to make a claim for more money or compensation, if it turns out your injuries are worse than you first thought.
And you may not actually know how injured you are, when you take that offer at the scene of an accident. You could have adrenaline in you, or just have an injury that is late to manifest itself as pain. By the time it does, it's too late—you took the money, and settled your case, for far less than what you need or should have gotten to fully compensate you for your injuries.
Don't just settle your case for less than what you need. Get help first. Call our Boston personal injury lawyers at The Law Office of Joseph Linnehan, Jr. today at 617-275-4200 to get your questions answered if you were injured in an accident.
Sources:
investopedia.com/terms/a/accord-and-satisfaction.asp
advocatemagazine.com/article/2018-august/the-five-major-do-not-do-s-for-maximum-value-settlements