The Process of Selecting a Jury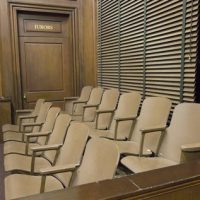 If you are heading into a personal injury trial, and it is time to pick a jury to hear and decide your case, you already may know that you are seeking to select a jury of your peers. But jury selection is about more than that. It is about getting a jury of your peers, who also may be sympathetic to, or responsive to your case.
For Cause Challenges
Before trial starts, jurors are asked different questions, some related to the case they will hear and some, seemingly, unrelated.
During questioning, the lawyers for both sides will have the chance to strike any juror that they may not want serving on a jury.
Sometimes, a lawyer will strike a jury because there is something in a jurors background that causes some concern.
For example, imagine you are suing a police officer because of excessive force or police brutality. One juror's dad and grandfather both served as police officers. You may not want that juror on your jury, out of concern that juror may be more sympathetic to the Defendant police officer in your case.
If you as a juror if they would be able to award a lot of money as compensation if the evidence showed it was warranted, and the juror said, for example, "no I think juries award too much money," that may not be a juror you want serving on your jury.
Much of striking jurors is based on psychology, to some extent, stereotyping, and what we know or even just feel about people's backgrounds and professions. In fact, there are even professional psychologists that specialize in jury selection, whose specialty is taking jurors' answers to questions, and coming to conclusions about whether that juror would be sympathetic to your case or not.
Peremptory Challenges
Usually, you have to strike a juror for cause—that is, you have to say why you are striking a juror. But lawyers also get what are known as peremptory challenges. These are challenges for no reason (or at least, no reasons that the lawyer has to publicly disclose).
The lawyer may just have a "bad feeling" about a juror, or the lawyer may just feel like a juror in a given profession may not be favorable to their case.
Although no reason for striking a juror has to be given during peremptory challenges, the lawyer cannot strike a juror for racial or gender based reasons—in other words, it is illegal for a lawyer to say "my client is black, so I want a jury that is all black."
If the other side suspects that peremptory challenges are being sued for race or gender bias, they can compel the other side to give a non race-based reason, for striking a juror.
Let us handle every part of your personal injury case. Call our Boston personal injury lawyers at The Law Office of Joseph Linnehan, Jr. today at 617-275-4200 to get your questions answered if you were injured in an accident.
Sources:
constitution.congress.gov/browse/essay/amdt14-S1-8-1-8/ALDE_00000827/
douglascountyks.org/depts/clerk-district-court/faq/what-voir-dire-and-what-its-purpose